Position Your Personal Brand by Creating a LinkedIn Client-Facing Profile
As a B2B professional, you're likely among the thousands of other B2B company leaders who have a presence on LinkedIn. The business-oriented social networking platform is a great marketing tool to expand exposure, generate leads, share knowledge, and network with industry professionals. However, if you're not using a client-facing personal profile to grow your brand, you're not using the tool to its full potential. Here are some best (and worst) practices for getting the most from your LinkedIn profile page.
☝️ Some profile don'ts
Social networking lets you communicate directly with your target audience. Make sure you use it effectively.
Don't make your profile a cheesy sales pitch. It is your introduction to the world and your tool for converting views into new connections.
Your profile is not a rehashing of your resume. Don't let your important skills, experience, and accomplishments get buried amongst irrelevant past jobs and experience that don't promote your brand aspirations.
Leave the selfies on your Facebook timeline. Your LinkedIn profile should have a professional photo of you in professional attire with an open, smiling demeanor.
Make it personal — but not too personal. Although many business leaders create personal brands separate from the companies they run, the two do interconnect. Be careful about putting too much personal information that has little bearing on your professional life. Give enough personal detail to make you human and approachable — but you don't need to involve readers in your personal dramas. If it doesn't promote your image, it's better to leave it out.
Don't be one dimensional. Text is fine, but too much reading can be overwhelming. LinkedIn now lets you use videos to increase interest and engagement. Short videos can highlight your expertise, solve a problem, or help you launch a product.
Don't hide! Use an attention-grabbing headline and use appropriate keywords to help your search engine rankings. Take every opportunity to participate in discussion forums and social media conversations to boost your authority and credibility.
?️ Blueprint for success
Your LinkedIn profile can be a powerful marketing and networking tool — and it doesn't have to be fancy or flashy. It simply needs to convey who you are and why someone should connect with you. Your profile should:
Say what you are. [Your title]
Say who you help. [Your company Name]
Say how you help. We help [Targeted Industry]
Give proof you're credible. [Benefits]
Here's an example from my personal profile: "Founder, RevGrow | We help Firms grow by delivering a steady flow of high quality leads & appointments (See Summary)"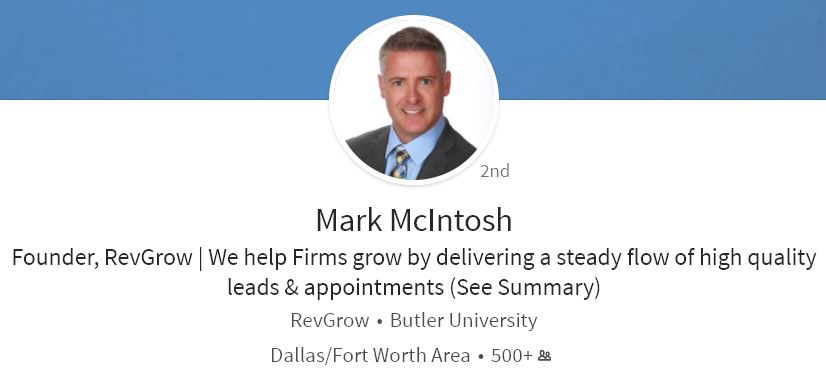 Highlight what you do, who you work with, how it works, why it works, and how you're different. You want to not only demonstrate you're an authority in your field but also that you can solve your audience's pains and are someone they'll know, like, and trust. In a nutshell, your profile needs to make it clear to readers that you help people just like them overcome a particular problem or achieve a specific goal. Then, take advantage of their interest and leave them with a call to action or next step such as "connect with me," "check out my blog," "follow me," or "subscribe to my newsletter."
? Care and nurturing
Once you create your LinkedIn profile, you can sit back and watch your brand grow, right? Wrong. You need to keep your profile current with fresh content, and you need to be actively promoting your profile and business on social media. Social media is a way for you to talk directly to those in your target audience. Participate in relevant communities and forums to grow your reputation as an expert and thought leader, and include a link to your profile in your professional correspondence.
Three-fourths of B2B buyers use social media to make purchasing decisions. And as the number one social platform for B2B marketers, LinkedIn is a must-have tool for networking and growing your business. However, it is often underused or misused. Your profile is a key component of your LinkedIn presence. If you do it right, your profile can enhance your image and grow your brand; otherwise, it may provide little value or, worse, tarnish your brand. Make sure you are making the most of this valuable space of online real estate.
[cta]Need a hand making your LinkedIn profile work harder for you? Contact me, Mark McIntosh, RevGrow CEO and founder, today by calling 972-998-5132. I'll be happy to explain how I can help you.[/cta]