When Are Your LinkedIn Prospects Ready to Have a Sales Conversation?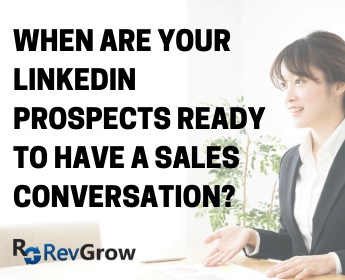 In sales, your job is to find and convert buyers. However, rushing to the sales conversation can be detrimental to converting the buyer, especially on LinkedIn.
Yes, there are highly skilled professionals on LinkedIn who are likely ready to have a sales conversation more than other social media platforms, but they also don't want to be bombarded with a sales pitch right after connecting with you. Going straight for the pitch on LinkedIn isn't professional, and it is how a lot of salespeople lose out on deals.
On occasion, you will have someone who is ready to buy from you or work with you right from the start, but they are the exception, not the rule. It's important to learn to recognize the difference between ready-to-go buyers and buyers you need to nurture.
How do you prepare your prospects for a sales conversation?
Let Them Know You Are There for Them
Thank Them
Once someone connects with you, simply thank them for connecting. Do not reach out with an immediate sales pitch. That will likely cause them to disconnect from you or, at a minimum, cause them to ignore further messages from you.
Offer Value
Become a resource for your prospect. Share an article, answer questions or offer to introduce them to others in your network. Once in a while, someone will be interested in your services or product right away and will be ready to purchase. More often than not, you will need to build trust before they decide to buy.
Ask for a Call
After you have demonstrated that you are more than just another LinkedIn sales pitch, you should ask for a phone call. This call is designed for you to get to know your prospect, understand their needs, and see how you can be a better resource for them. This can lead directly to a sale; however, it will likely be just the beginning of the dialog with this prospect.
Nurture Them
If your prospect has not agreed to a sale, you'll want to wait about a week or two before reaching back out to them. And even that next message may not be enough. If that's the case, you'll want to wait for yet another week or two before you send a follow-up message. That message may be asking for another call or just providing some value to build a better connection with them.
Ask a Question
Asking a question is an excellent way for your prospect to start engaging with you. These questions could be about a current project or trend in the industry – something to start a dialog.
Offer More Value
You want to show them that you are there to help them with their needs and help find solutions for their pain points. If you have spoken with them or they responded to your question, you may have a specific resource to share. If not, offer another article or opportunity to share your network.
Show You Value Them
Set yourself apart by showing that you don't just care about yourself and making the sale. Never lead off with a pitch. With your expertise and willingness to share valuable insights with them, your prospects will be more prone to listen to you, read your articles and posts and hear what you have to say.
It may take a few months before that person responds to you. Patience is key. Keep reaching out and offering value. They may be too busy to answer, or they are waiting a while to see more posts from you and learn more about you.
Listen for Their Questions
When a prospect is ready to have a sales conversation, they will start asking you questions. Even though you're excited to tell this person everything you know, don't bombard them. Respond to their question with a simple answer. Avoid pushing them. Wait a day or two before you follow up to ask if you answered their questions and if there are any follow-up questions.
To Sum Things Up
Connect with your prospect.
Thank them for connecting and provide some value or ask them a question.
Wait about a week or two and then ask them for a phone call.
If no response, wait another week or two and provide some more value (an article, invite to your group on LinkedIn, a webinar, etc.).
If no response, wait another week or two and follow up for a phone call.
Always listen.
Be knowledgeable and be respectful and they will remember you!
This process requires time and patience. In your busy schedule, you may wonder how to make this work for you. We have tools to help guide you through the process. Book your Free LinkedIn Strategy Session today! LINK
About RevGrow
RevGrow is a Lead Generation and Business Development firm based in Dallas-Fort Worth and proudly serves clients throughout the United States. RevGrow helps businesses grow their revenue by generating a predictable flow of qualified leads and appointments using LinkedIn. To get these results, RevGrow positions you as the authority in your field and someone prospects will know, like and trust. You can connect with RevGrow on LinkedIn, Facebook, and YouTube.